When you have an abundance of eggs then of course you have to make vanilla slice. Vanilla slice, with its luscious layer of creamy custard and flaky pastry, is an absolute delight for the senses and a family favourite.
When on road trips, our family has always sought out vanilla slice in country bakeries, with the pursuit of trying to find the best vanilla slice. Over the years, our quest has taken us on a mouthwatering journey, from quaint country bakeries with century-old recipes passed down through the generations to the trendy artisanal patisseries, pushing the boundaries of vanilla slice interpretation. It's not just about the taste; it's also a quest for that elusive balance between a crispy, buttery crust and a velvety, silky custard that melts in the mouth. Each visit to a new bakery is an exciting step toward discovering the ultimate vanilla slice, a pursuit that never ceases to amaze and satisfy our dessert-loving souls. So far, "Just Fine Food" in Sorrento, Victoria may be winning the prize.
At home, we are proud to prepare it with our farm-fresh eggs, adding that extra touch of homegrown goodness to an already beloved classic. The process of carefully cracking and whisking the eggs and thickening the custard is comfort cooking at its finest. The end result, a delectable dessert that perfectly balances sweetness and comfort, is not just a treat for the taste buds but a testament to our great eggs and the love of our farmhouse kitchen.
&times
Vanilla Slice Recipe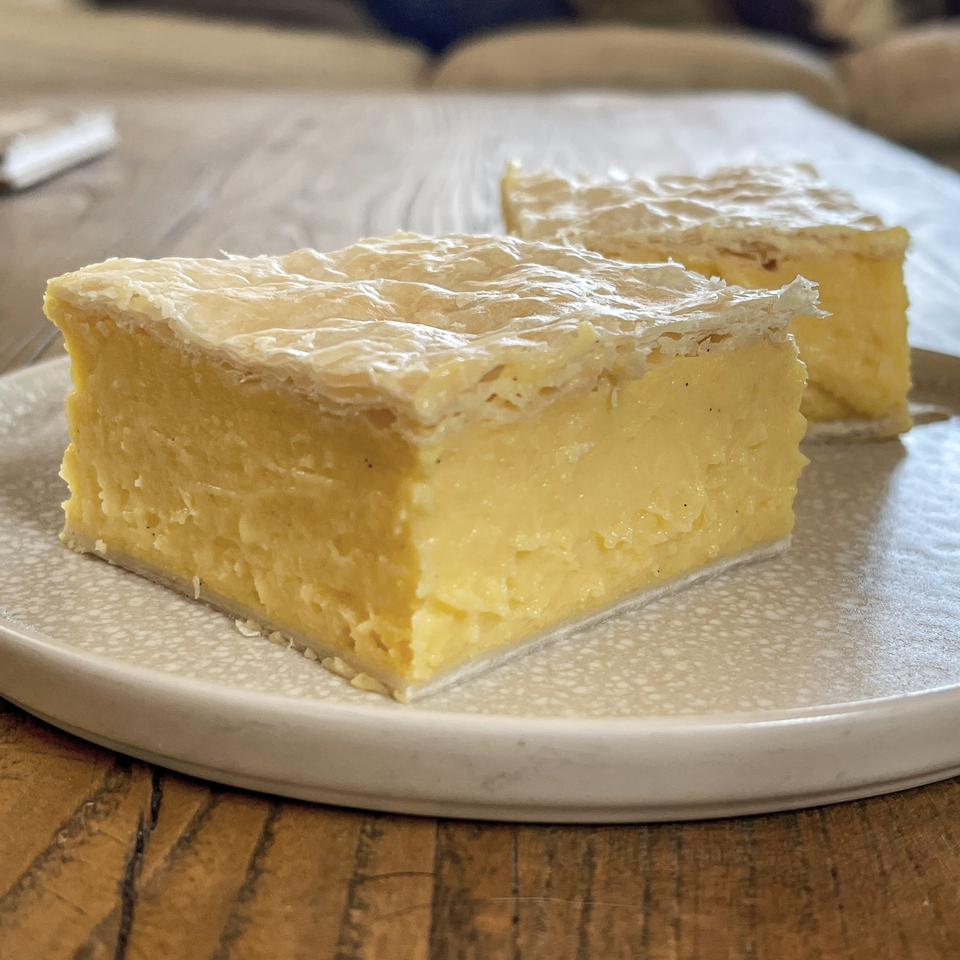 4 sheets of puff pastry
800mL pouring cream
700 mL Milk
1 cup caster sugar
100 gr butter
4 teaspoons vanilla essence
4 teaspoons vanilla paste
1 cup water
1 cup cornflour
12 egg yolks beaten
(save the whites for a pavlova!)
Instructions:
Preheat oven to 180C.
If you have a small oven, you may have to cook each piece one at a time.
Line 4 flat baking trays with baking paper. Place a pastry sheet on each tray and put another piece of baking paper on top. Carefully weight the pastry down with another tray so that it doesn't rise too much.
Bake for around 20min or until light and golden. Allow to cool on racks.
In a large saucepan, combine the cream, milk, sugar, butter, vanilla paste and vanilla essence.
Whilst continuously stirring with a whisk, heat gently over a low/medium heat. Cook until the mixture is hot, but not boiling. The mixture will start to rise in the pan a little. Then remove it from the heat.
Combine the cornflour and water and mix until smooth before whisking it into the milk. This will thicken very quickly so ensure you keep stirring.
Beat the egg yolks together and whisk into the custard mixture. Make sure they are well mixed in before you return to the heat, or you will scramble the eggs.
Return the pan to a LOW heat and keep whisking until the custard thickens.
Once it is thick, take off the heat and put into a cool bowl and allow it to cool to room temperature. Keep whisking now and then to help it cool down and keep it smooth.
Using a rectangular, straight sided baking tin (I use a glass pyrex one), line with baking paper. Get the paper to over hang, as it helps to pull the slice out after.
Trim two of the cooked pastry sheets and place into the base of your prepared and lined baking pan.
Pour the cooled custard over the pastry and then top with the other two sheets of trimmed pastry.
Cover and refrigerate for at least two hours or overnight until it sets.
To cut the slice without crushing it, score through the top layer of pastry before going back and slicing through the rest of the custard slice with a large sharp knife.
This article has 0 comments.